Award-winning Singapore architectural firm, RT+Q Architects came up with the concept of a modular home with three interlinked, two-storey blocks for three generations living under the same roof situated at Stevens Road.
Upon arriving at the house's front gate, one would have the impression that autumn has come with a red living wall established beside the driveway entrance. This red wall idea developed when the architect decided to be unconventional by introducing red instead of green plants.
Standing at the courtyard of this private family dwelling, a magnificent green wall nestled in the middle can be seen with plants framing a bay window where a playful art piece sits. As a part of the three blocks enveloping a swimming pool, the green-walled tower acted as a focal point visually within the courtyard.
Lush greenery was crucial in the overall comfort for its occupants as it creates an inner tropical oasis as opposed to its concrete surroundings. Primary rooms such as the Dining, Family and Living rooms look onto the green wall giving a sense of calmness and serenity within the space. A variety of plants with different shapes and shades of green were laid out compositionally to achieve a dynamic pattern effect.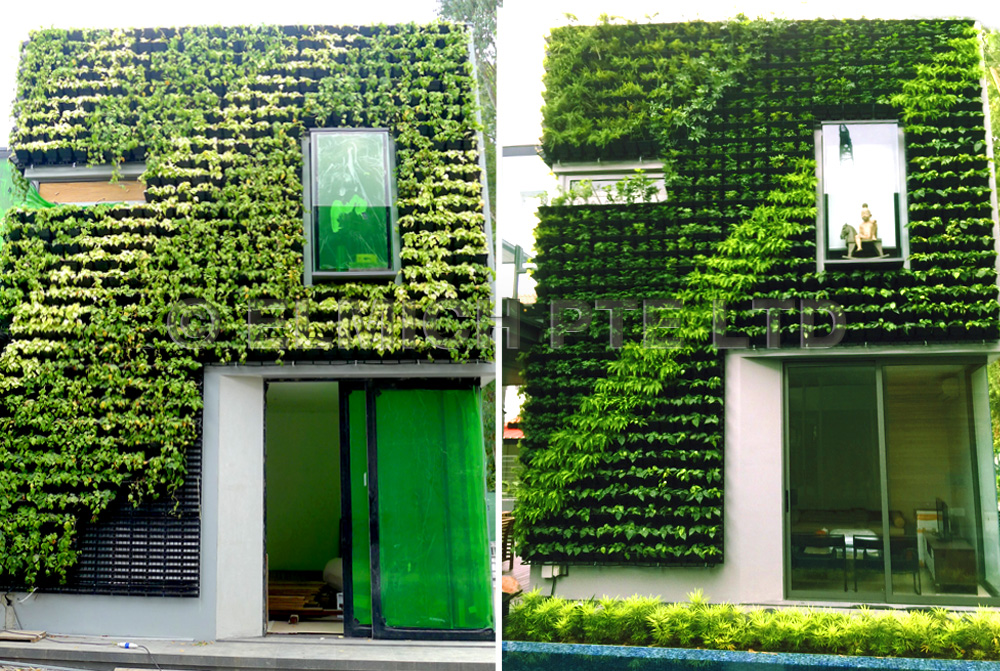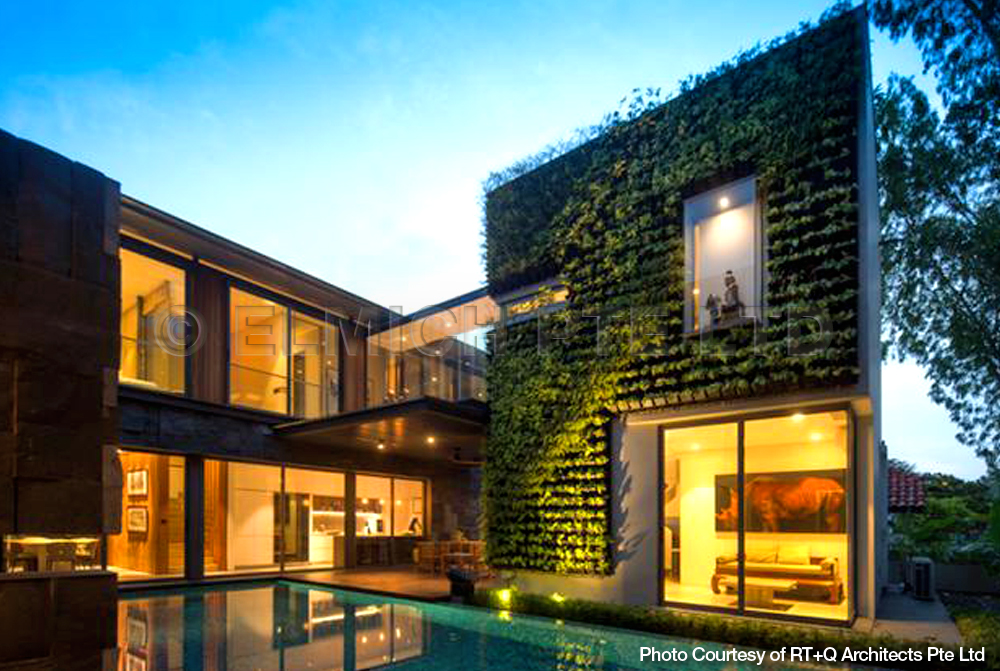 Both red and green walls were supported by the Elmich VersiWall® GP (VGP) system. It was installed with a self-irrigating system accomplishing the task of watering the "Living" feature walls. The modular system allows the potted plants to be individually replaced or removed for wall maintenance or design change. Most importantly, the large soil volume that the VGP system can carry allows the designer to have a wider choice of plant varieties.
Elmich is honoured to have played a part in this multi-generation home that represents modern living filled with a strong Asian flavour. Contact us to find out more about incorporating vertical gardens into your project.
Project Credits:
Architect: RT+Q Architects Pte Ltd
Landscape Contractor: Mandala Landscapes
Green Wall System Designer & Manufacturer: Elmich Pte Ltd
Read more about the application here…