CapitaSpring, a 51-storey skyscraper, standing 280 metres tall at the heart of Singapore's Central Business District (CBD) is set to open by 2022. The skyscraper holds 29 floors of office space and encompasses Citadines Raffles Place Singapore (managed by Ascott Limited), a residential project with 299 serviced apartments.
On the ground floor of the skyscraper lies a 19-metre-high atrium and a 1,161-square-metre public park. CapitaSpring also houses the revived Market Street Food Centre on the second and third floors. Additionally, the skyscraper features a Four-Storey Green Oasis with a botanical promenade on level 17, which consists of a pan-European garden bistro, a rooftop restaurant cum a social bar, and a 12,000 square foot of retail space. In 2018, CapitaSpring was awarded the BCA Green Mark Platinum.
Elmich's VersiJack® height and slope adjustable pedestals were used to support a raised wooden decked area beside the pool near the hotel lobby of Citadines Raffles Place at level 9. Resistance to mould and algae render VersiJack® ideally suitable for the installation in a constantly wet and damp environment by the poolside.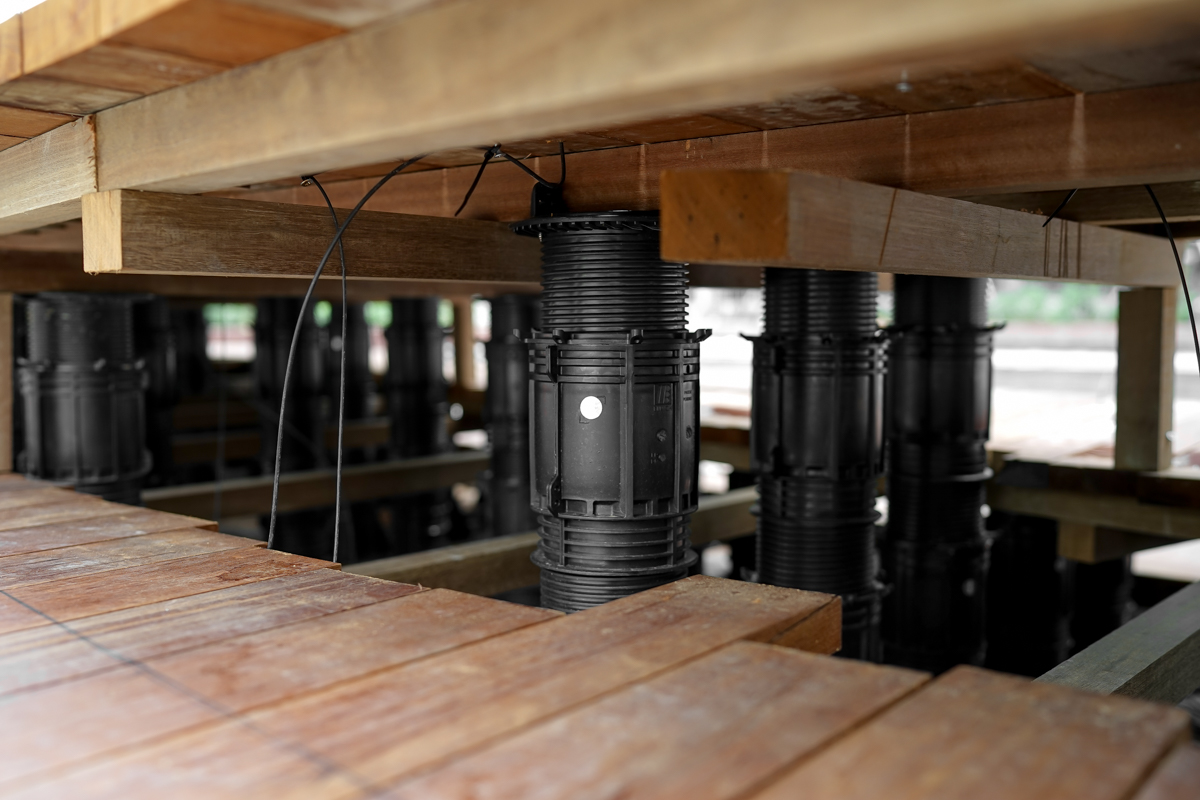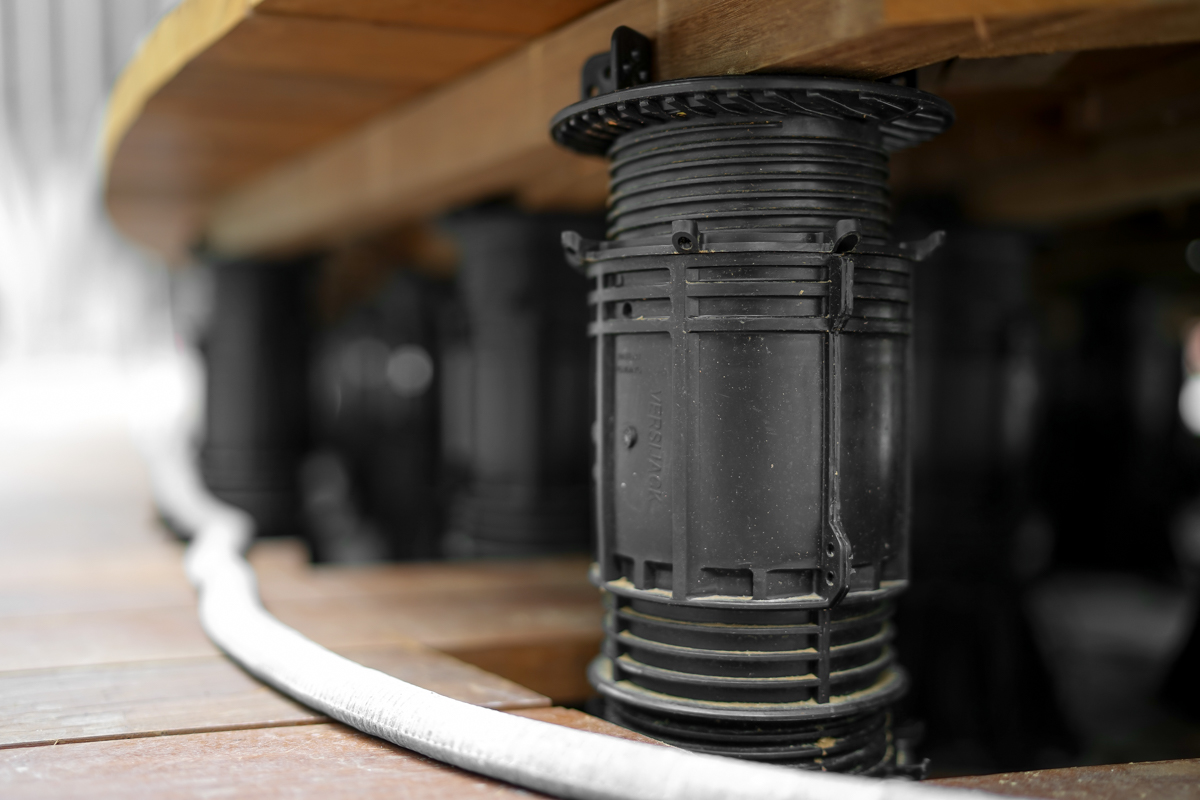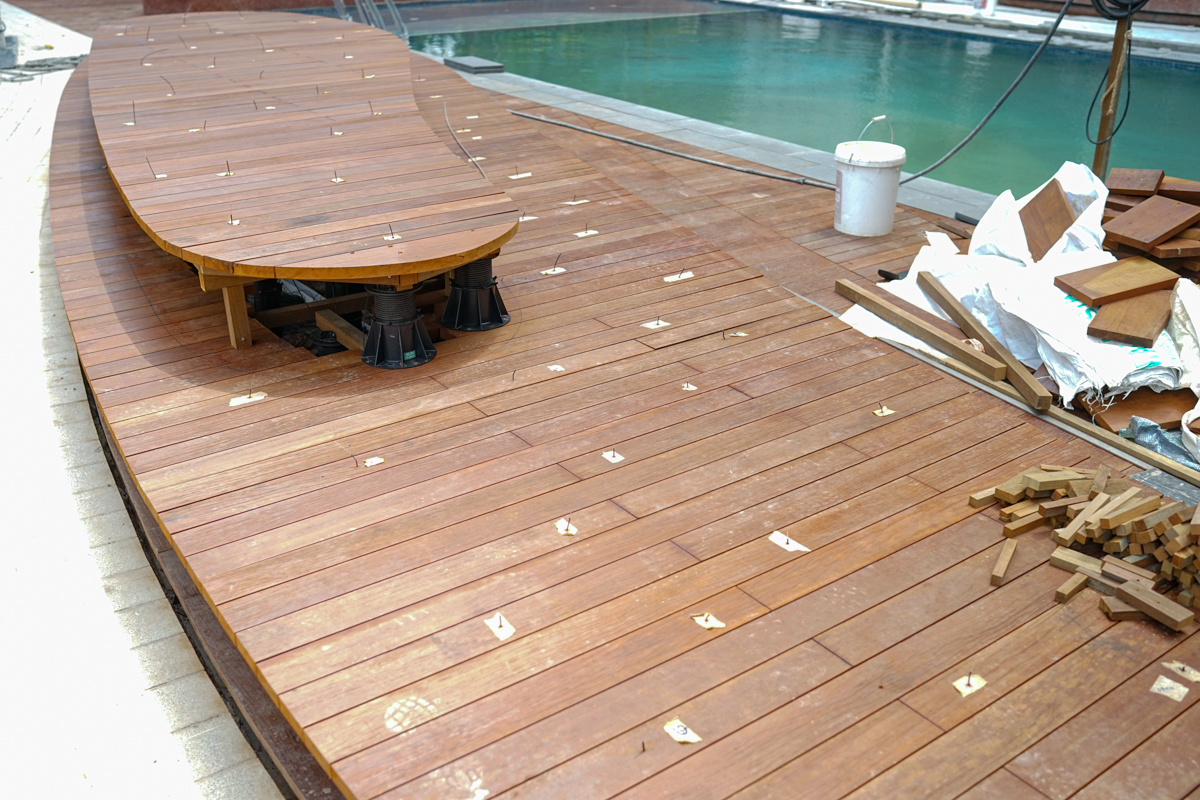 Mini LED lights were then installed under the decking to mimic a sky full of stars. When night falls, these LED lights are switched on and they certainly look beautiful from all angles. The installation of the entire VersiJack® system took around 3 months.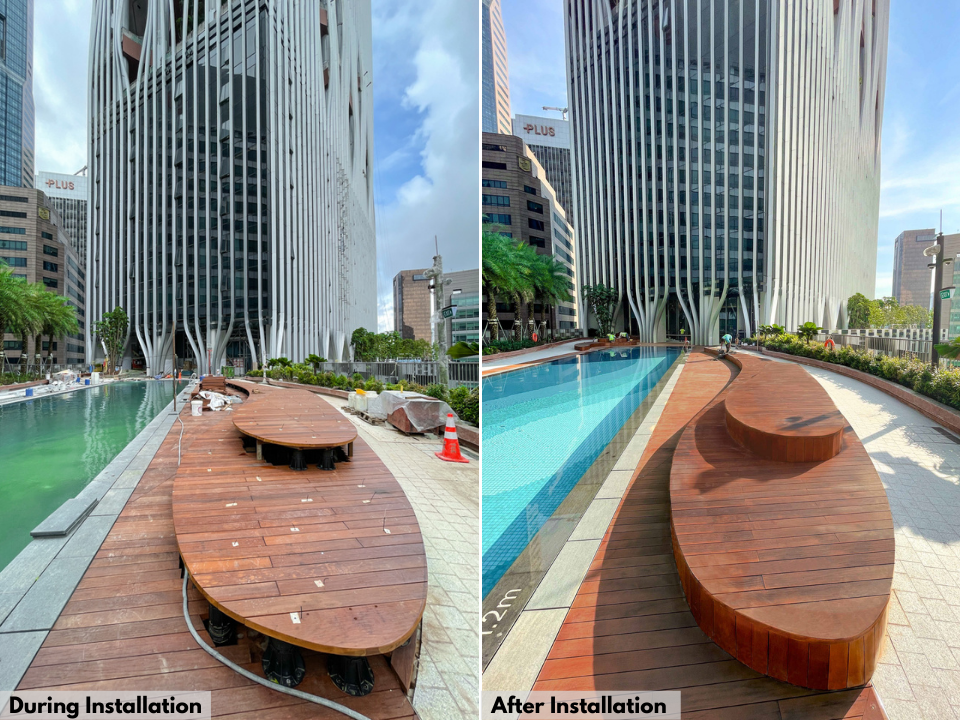 What is VersiJack® 
VersiJack® is a heavy-duty height and slope-adjustable pedestal designed for floor, deck, paver, beam, and bearer support. It can be used in the construction of roof terraces, pedestrian walkways, roof gardens, plaza decks, sun decks, balconies, pool surrounds, podium landscapes, and verandas. VersiJack® also can be used to create raised floors with most pavers including granite, marble, porcelain, and precast concrete.  It is widely used to support timber and composite bearers under the decking and is excellent for creating reusable or temporary exhibition flooring.
Why VersiJack®
1. Versatile for Different Site Requirements
Elmich has a wide range of proprietary accessories (i.e. Wall Spacer, Vertical Edge Clips, Variable Angle Spacer Tab, Bearer Holder Concealed Paver Retainer, Exposed Paver Retainer, Bottom Slope Corrector and Pedestal Shim) which can be easily attached to VersiJack® to accommodate different site requirements.
2. Height Adjustable
With the attachment of Elmich's Barrel Extenders, VersiJack® is height-adjustable from 37 mm to 1014 mm.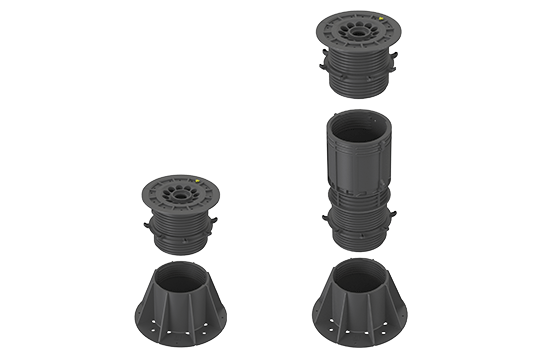 3. Slope Adjustable
Elmich's Top or Bottom Slope Correctors, when attached to VersiJack® can create level surfaces by compensating for gradients up to 5%.
4. Concealed Services
VersiJack® allows unsightly services to be concealed within the cavity under the elevated platform allowing easy access when required.