Designed by world-renowned Tange & Associates, Orchardgateway is an integrated development made up of a pair of diagonally-opposite curved towers straddling both sides of iconic Orchard Road housing a hotel, retail mall, offices, Singapore Visitor Centre and a branch of the National Library.
A glass tubular bridge, the only overhead pedestrian bridge along Orchard Road, and an underpass link Orchardgateway where the former Specialist's Centre and Hotel Phoenix used to be with Orchardgateway Emerald where Orchard Emerald once stood on the opposite side of the road. The building enjoys direct access to the Somerset MRT station via two basement floors and is connected to the adjacent 313@Somerset and Orchard Central at street level as well as inter-mall doorways on various floors.
This iconic project at the epicentre of the shopping belt brings greater vibrancy to Orchard Road and reinforces its status as one of the most famous shopping streets in the World.
More than 10,000 VersiJack® pedestals, and approximately 1,150 sq m of VersiCell® draincells and 5,875 m sq of Evalon® waterproofing membrane were used to provide support for the pavers and decking, sub-surface drainage and waterproofing respectively at the E-deck and sky terraces of the hotel to create vast environmentally-friendly skyrise gardens and recreational areas. These features undoubtedly contributed to Orchardgateway attaining the Building and Construction Authority's Green Mark Platinum Award, the highest accolade for achieving sustainable construction and building standards in Singapore.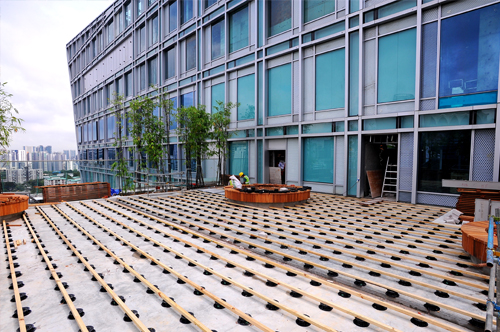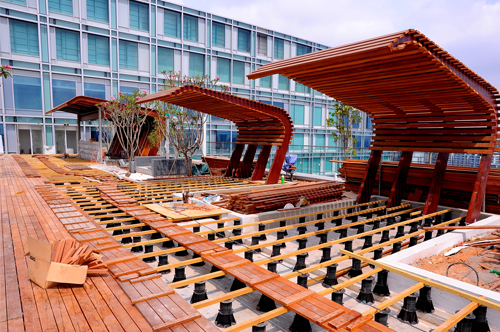 PROJECT DETAILS
Client / Developer: UE Orchard Pte Ltd
Architect: AWP Pte Ltd
Main Contractor: Hyundai Engineering & Construction Co., Ltd
Landscape Consultant: Peridian Asia Pte Ltd
Waterproofing Contractor: L H Waterproofing Specialists Pte Ltd
Landscape & Decking Contractor: Garden Beau Pte Ltd