Elmich recently showcased two new products at the GreenUrbanScape exhibition, the region's leading event for urban design, landscape and greenery. The event was officially opened by Minister for National Development, Lawrence Wong, on 5th November. As an engineering solutions company, Elmich has continually proven itself to be an innovative, leading provider of premium urban landscaping and stormwater management solutions through its growing range of quality products.
A prominent life-sized mockup of the tree root management system consisting of StrataVault® (RootCell®) attracted visitors eager to find out more about the solution. Elmich also introduced a water treatment solution utilising "Reactive Filter Media (RFM)", which complements its stormwater detention tank. This solution is suitable for treating stormwater runoff in vegetated or non-vegetated applications. A bioswale model was installed at the booth providing an X-ray vision of what happens underground. Overwhelming interest and enquiries spurred our stormwater management specialists to further elaborate on the process cycle of how water is treated.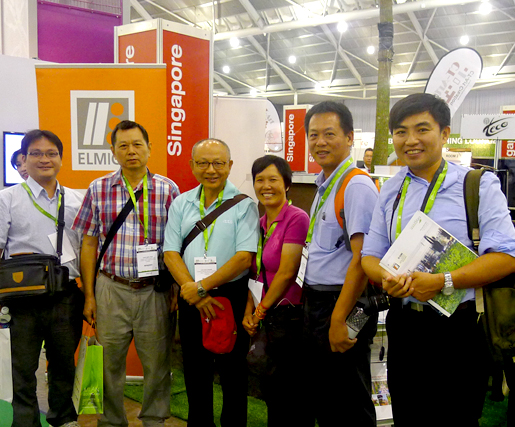 Delegation group from Taiwan at Elmich booth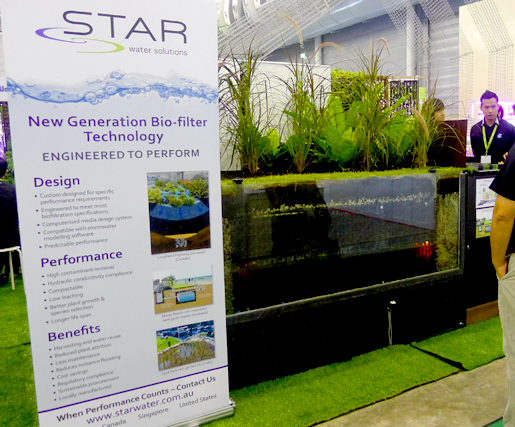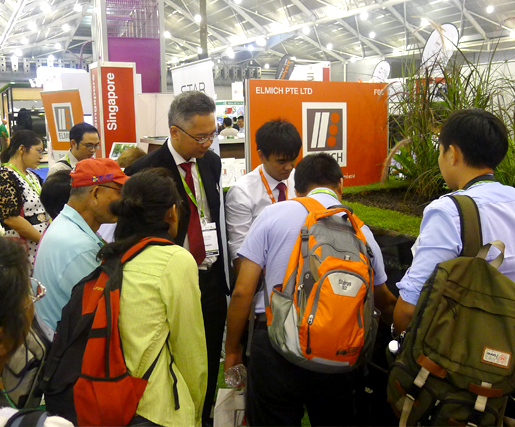 About GreenUrbanScape Asia:
GreenUrbanScape Asia 2015, jointly organised by National Parks Board (NParks), Landscape Industry Association (Singapore) (LIAS), Singapore Institute of Landscape Architects (SILA) and Singex Group, was held alongside the 3rd International Skyrise Greenery Conference (ISGC) and the first-ever GreenUrbanScape Asia (GUSA) Congress at the Singapore EXPO Convention & Exhibition Centre from 5 to 7 November 2015.