In our first attempt at entering the Singapore Sustainability Awards' call for application, Elmich Pte Ltd won the Top Honour title under the Green Technology Awards for Small and Medium Enterprise. As an eco-friendly company, we were honoured to be the sole recipient of the Top Honour title organised by the Singapore Business Federation (SBF) who represents 21,500 companies, as well as some local and foreign business chambers in Singapore. The Minister for Environment and Water Resources, Masagos Zulkifli was the Guest of Honour who graced the event.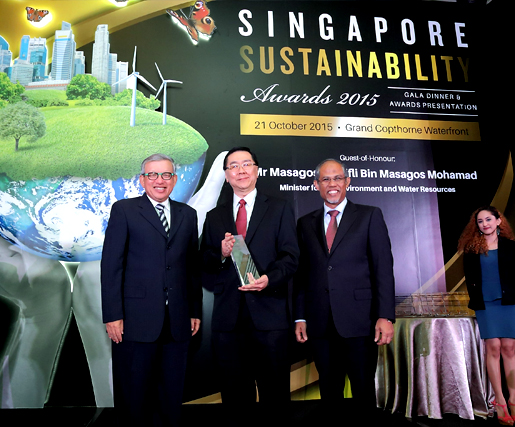 (From left to right) Chief Executive Officer, Singapore Business Federation – Mr Ho Meng Kit,; Executive Chairman, Elmich Pte Ltd – Mr Alan Lee; Minister for the Environment and Water Resources – Mr Masagos Zulkifli Bin Masagos Mohamad
The winners were judged on their sustainability excellence and innovation by an independent panel of judges comprising of International Enterprise Singapore, National Environmental Agency, Nanyang Technological University, Institute of Technological Education, SIMTech, SPRING Singapore and Frost & Sullivan.
The Award showcases the most innovative and impactful sustainable practices and green solutions among organisations in Singapore. Inaugurated in 2009, the Awards recognise organisations for their outstanding sustainable business practices and innovative GreenTech solutions which aim to identify excellence in companies that provide best-of class green technology solutions, meeting sustainability needs of the business, environment and society. Hopefully, these Awards will inspire organisations to embrace sustainable development and in turn, strengthen Singapore's position as a regional showcase for sustainability and innovative green solutions.
Elmich is proud to win the Award, which validates our efforts to being a green company. We demonstrated a strong commitment to sustainable business practices through our value proposition, with sustainability incorporated across four areas – people, processes, products and planet.
Though headquartered in Singapore, we have established an international presence; hence a need for our products to be of the highest quality and environmentally-sustainable, to comply with wishes and standards of our customers worldwide. Our products are engineered with environmental consciousness and ecological stewardship in mind which helps strengthen our brand awareness both locally and overseas. We pride ourselves as a professional, responsible and eco-sensitive company.
Congratulations to all the other award winners!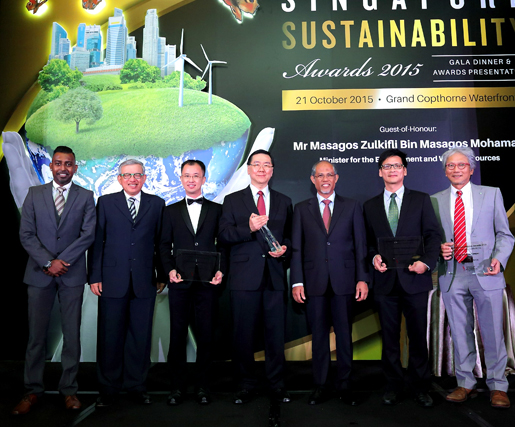 Read full feature from TODAY here (online/print)
Read full feature from The Business Times here (online/print)