Over 15,000 VersiJack® S pedestals have been supplied by Elmich Pte Ltd to support the bearers for the installation of 8,000 sq m of wooden decking at the Sentosa Boardwalk. The pedestals, supporting decking heights above 500mm, provide a cost-effective, eco-friendly and sustainable way to construct the Boardwalk.
The Sentosa Boardwalk is being built at a construction cost of S$70 million to provide another option to get to the island resort of Sentosa on foot. Running parallel to the Sentosa Gateway, it is 620 metres in length, stretching from the waterfront promenade along VivoCity across the bay to Sentosa and leading visitors to the arrival plaza of Resorts World at Sentosa. The boardwalk covers an area of approximately 16,500 square metres and ranges from 25 to 40 metres in width. It is South-East Asia's largest thematic walkway, featuring five garden themes depicting different landscapes of Singapore.


The Sentosa Boardwalk from Vivocity to Resorts World Sentosa
Visitors can choose to walk along the timber boardwalk or use five pairs of 50 metre dual-directional canopy-covered travellators. Designed to carry 8,000 visitors per hour in each direction, the travellators take visitors across the bridge in about 15 minutes. Retail, food and beverage outlets line the length of the boardwalk for the convenience of visitors who make the walk.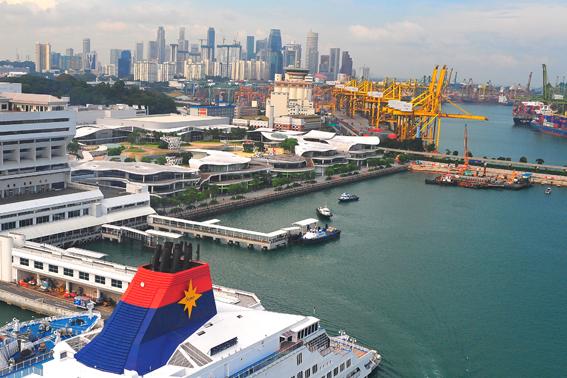 Beginning of the Boardwalk from Vivocity
Overlooking the picturesque bay, the Sentosa Boardwalk boasts extensive vantage lookout points where guests can enjoy the unfolding sunset or watch cruise liners as they sail in and out of the bay. Come nightfall, the boardwalk is transformed into a display of lights, providing another attraction to further enhance visitor experience.


Walking across from VivoCity, guests will be greeted by an arrival plaza with ticketing booths before approaching Sentosa for entry into the island which also serves as exit point for guests leaving the island on foot.
ABOUT VERSIJACK® S

VersiJack® S is a new generation height and slope-adjustable pedestal for paver and bearer support that offers the user choice of a long (165 mm), medium (85 mm) or short (44 mm) pedestal top and either a long (117 mm) or short (74 mm) base. Coupled with an extender (160 mm – 245 mm), height increase to above 500 mm is possible using only three main component parts on each pedestal. This pedestal has greater stability and better compressive strength, and also significantly reduces overall costs when support heights required are beyond 500 mm.

VersiJack® S eliminates need for bedding sand and/or use of brick, concrete or metal piers for installation of raised pavers or decking. Essential services can be concealed and unsightly efflorescence eliminated on pavers. Improved surface drainage also keeps paver or decking surfaces dry, preventing algae growth and enhancing safety. When necessary, subsequent accessibility to the concealed services or waterproofing membranes beneath is made easy. It provides also a ventilation break that reduces heat and sound transmission when installed over habitable space below.