INTERNATIONAL SKYRISE GREENERY 2010
Surfaces of Creativity: Space of Delight
1 – 3 November 2010
National Library, Singapore
Elmich at Booth A09
Over 30 internationally renowned industry leaders from 10 countries will share their insights at the inaugural International Skyrise Greenery Conference (ISGC), the first of its kind in the Asia-Pacific region, taking place in Singapore at the National Library, 1 to 3 November 2010.
Organised by the National Parks Board (NParks), the Centre for Urban Greenery and Ecology (CUGE), and International Green Roof Association, the ISGC will cover rooftop gardens and green roofs and vertical green walls.
Multiple award-winning experts in the field such as Emilio Ambasz from the U.S.A., Patrick Blanc from France, and Dr Ken Yeang from the United Kingdom will be at the conference.
Delegations will come from countries in Asean, Australia, Brazil, China, Hong Kong, India, Italy and the U.S.A. They will be treated to technical tours of six skyrise greenery sites and granted exclusive access to sites that are not open to the public, such as the Gardens by the Bay, which is slated to open in 2011.
There will also be a trade exhibition showcasing related products and services from around the world.
Visit Elmich at Booth No. A09 to view our comprehensive range of skyrise greenery solutions.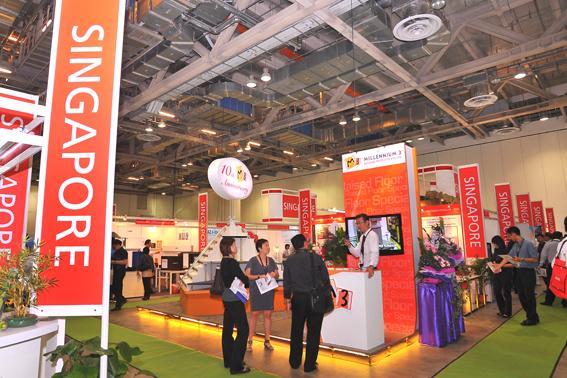 GREENBUILD CHICAGO 2010
Generation Green: Redefining Our Future
17-19 November 2010
McCormick Place West, Chicago, U.S.A.
Elmich at F1 Exhibit Hall, Booth A189
http://www.greenbuildexpo.org/Home.aspx
The Greenbuild International Conference & Expo, the biggest green building and design conference of the year, takes place in Chicago at the McCormick Place Convention Center, 16 to18 November 2010.
Elmich will be presenting our landscape engineering solutions at F1 Exhibit Hall, Booth No. 189.
The Conference & Expo will showcase products, technologies, tools and strategies from green product manufacturers, alternative energy companies, and industry experts supporting green building initiatives. Greenbuild will help large and small corporations to adopt practices that support sustainability goals and bolster the trend of converting buildings into sustainable facilities that consume less energy and, consequently, also help green product manufacturers expand market share and promote energy efficient and sustainable products.
Chicago is one of the first cities in the U.S.A. to adopt LEED (Leadership in Energy and Environmental Design) for public buildings and, the city that is home to more LEED-certified buildings than any other, is truly committed to leadership as a "next-generation" city – the perfect place to celebrate being part of Generation Green. The Conference & Expo in Chicago will contribute to shaping the cities and towns around the world in future.
CONBUILD VIETNAM 2010
Connect! Contract! Construct! @ Conbuild
1 – 4 December 2010
Vietnam Exhibition Fair Centre (VEFAC), Giang Vo, Hanoi
Elmich at Hall A1, Booth 1715
ConBuild Vietnam 2010, to be held at the Vietnam Exhibition Centre (VEFAC), Giang Vo, Hanoi from 1 to 4 December 2010, is one of the biggest annual gathering venues for the construction and building industries from around the world, particularly those in ASEAN.
Elmich will be presenting its waterproofing and sustainable landscape engineering solutions at Hall A1, Booth No. 1715.
ConBuild Vietnam is the recognised international-standard platform for local and foreign businesses to capitalise on the immense opportunities in the region, as well as to interact with and forge partnerships with highly targeted construction and building groups in Vietnam, globally and in the region.
In addition to the conference and exhibits, the event will feature seminar programmes, industry and technical presentations and innovative exchanges with strong representation from national and international groups, including China, Germany, Korea and Singapore.
Amongst the target visitors will be Property Developers, Architects, Building Contractors, Civil Engineers, Interior Designers, Investors, Landscape Architects, Project Developers, Representatives of the Construction Industry, Housing Industry, Real Estate Industry, Specialized Engineers and Surveyors.