Elmich congratulates the Singapore Institute of Architects (SIA) on the event of their 50th Anniversary at their Gala Dinner on 17 May 2013 at Resorts World Sentosa. Committed to supporting SIA in the growth and development of the industry, Elmich has been a strategic partner of SIA and regularly conducts seminars which support Continuing Professional Development (CPD).
Mr. Ryan Lee (Managing Director, Elmich Pte Ltd) receiving SIA Strategic Partner Award.
Friends and partners of Elmich were also invited to join in the celebrations to firm up support for SIA. Elmich congratulates SIA on this occasion and looks forward to continued cooperation in the years to come.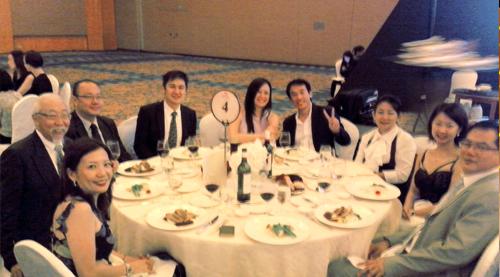 From left: Ms. Sharon Baptist (Ong & Ong Pte Ltd), Mr. Arthur Loh (DP Architects Pte Ltd), Mr. Freddie Lim (Surbana International Consultants Pte Ltd), Mr. Eugene Ang (Elmich Pte Ltd), Ms. Nina Yang (CPG Corporation Pte Ltd), Mr. Eddie Yang (Ong & Ong Pte Ltd), Ms. Lena Quek (Ong & Ong Pte Ltd), Ms. Serena Teo (Singapore Green Building Council [SGBC]), Mr.Yeo Choon Chong (KTP Consultants Pte Ltd).