Forest City, termed as Southeast Asia's largest mixed-use development is slated to be completed in phases across 30 years. The project will eventually occupy four man-made islands in Iskandar, Malaysia with an estimated worth of US$40.9 billion.

Designed by Sasaki Associates, the master plan for Forest City seeks to establish a symbiotic relationship between urban development and the natural environment. The project also received a "Merit Award for Landscape Analysis and Planning" from the Boston Society of Landscape Architects.
In Phase 1 of the completion, a duty-free shopping street and a five-star hotel will be ready by end of the year on Island 1 and the sales gallery is now open to public for preview and booking of the condominiums and high-rise coastal residences.
To create a forest-like environment, facades and interiors of the buildings are covered by foliage and multiple planters are incorporated within the landscape to surround the city with the wonders of nature. Beyond this lush greenery that pleases the eyes of any visitor, comes the professionalism of the waterproofing membrane installers who homogenously welded the 2.2 mm thick EVALON® V membrane using hot air to line the narrow planters and securely terminating the membrane along its contours.
Overlooking the Sales Gallery Building & Pool Area
Building Model Showcases the Silhouette of the Sales Gallery Inspired By the Streamlined Shape of a Seashell and a Winding Coastline
Planters in Sales Gallery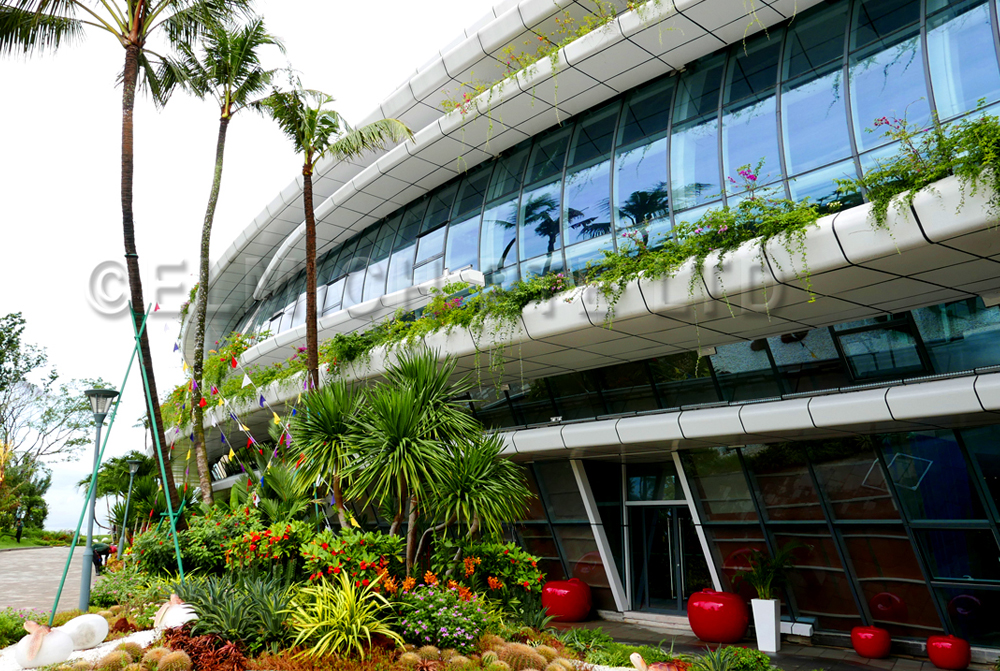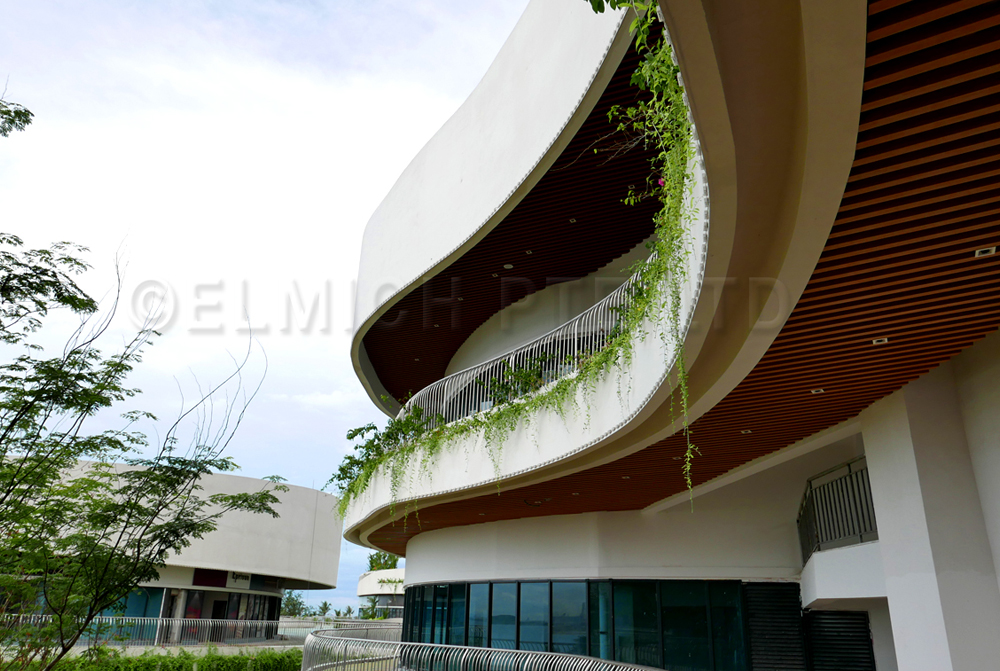 Narrow Planters Lined with EVALON® V Waterproofing Membrane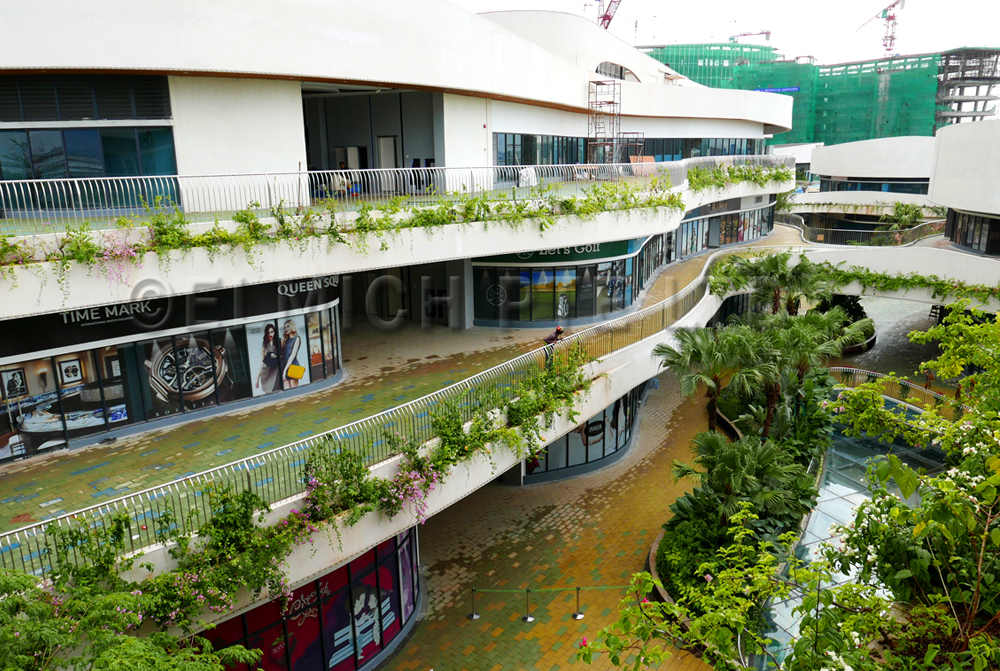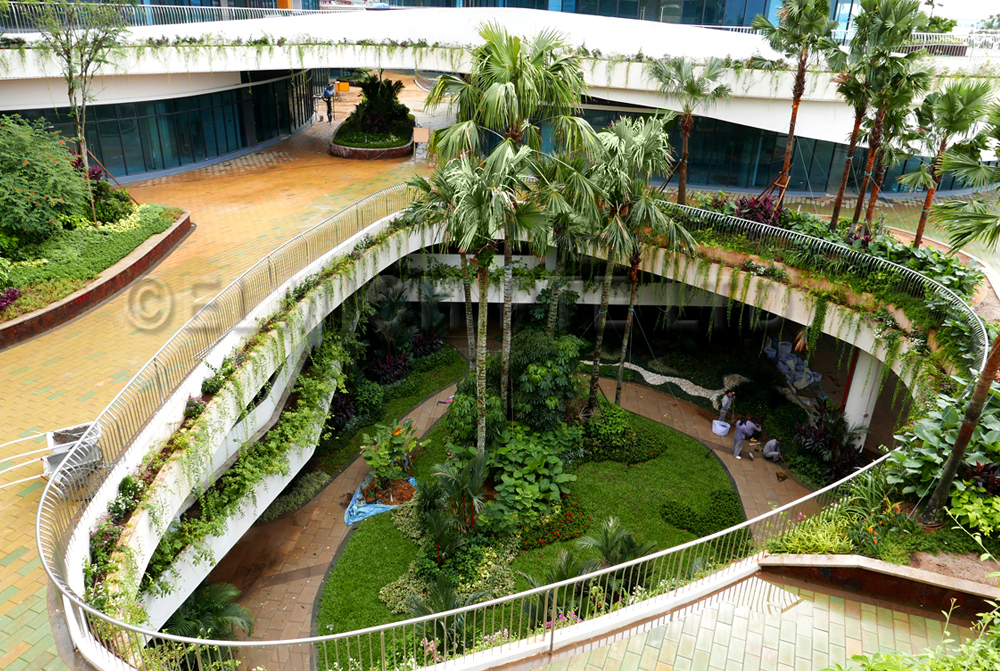 Multiple Planters in Coastal Commercial Street (within Forest City)
It is especially important that planter boxes are waterproofed properly because they are consistently wet, have a tendency to leak and, if left untreated, water that seeps out of the planter will spread to the surrounding areas causing damage due to mould or rot.  This is exactly the reason why EVALON® V was chosen for its excellent plant root resistant properties and superior quality surpassing the European standards to protect the plants and adjacent surroundings for at least 30 years. In addition, the laid membranes have a polyester fleece backing that reduces stress and strain on the waterproofing system (vapour decompression, movement compensation, etc.).
Aligned with Elmich's vision of creating cities through sustainable solutions, Forest City is definitely a sustainable development to look upon as an example of a green city in the near future and we are glad that our German-Made membrane played a part in the establishment of approximately 4,000 sqm of greenery in Phase 1 of the construction.
Project Credits:
Developer/Owner: Country Garden Pacificview Sdn Bhd
Architect: Sasaki Associates Inc.
Main Contractor: Giant Leap Construction Sdn Bhd
Supplier of EVALON® V: Elmich Pte Ltd

Read more about the application here…