In the heart of Sydney's heritage precinct, is the multi-award winning two-storey Forest Lodge ECO House designed by Code Green Pty Ltd. Originally, one of the last vacant blocks in the city, Chris Knierim, Managing Director of Code Green approached the council with the assumption that they would want the design to blend in with the rest of the heritage homes in the street. Instead, the City of Sydney Council encouraged a contemporary design that would be distinctly 21st century.
Chris decided to embrace an all-encompassing eco philosophy, where sustainable materials would be utilised wherever possible. "If you build a home properly to start with, your initial outlay may be more, but in the long term your costs will be reduced," said Chris.
Two green roofs were incorporated in this project which is aligned with the eco philosophy set out by the designer. Elmich VersiDrain® 25P, a water retention and drainage tray system was used to support the growth of the plants. The system was selected for its high storage capacity and high compressive strength which effectively supports the weight of the growing media and plants while also protecting the waterproofing membrane. Moreover, VersiDrain® 25P is manufactured from UV-stabilized recycled plastic and awarded various green label certifications.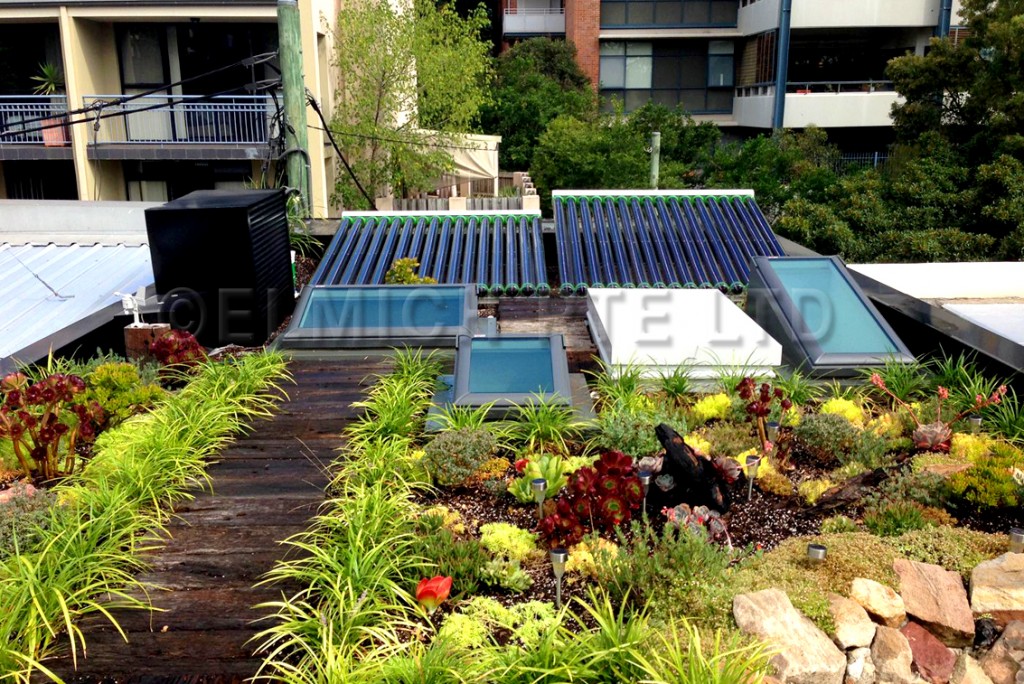 Green roof @ main storey
Green roof @ lower storey and vertical garden court yard
Modern design reflected through Chris's choice of interiors
The green roofs occupy a total of 60 sqm, one located on the main roof and the other on the lower storey. Prior to the commencement of the construction, the plants were propagated off site allowing the plants to grow during this period. Various grasses, Sedums, Delospermas, and other succulents were also hand planted on the roof.
Green roofs form an insulation barrier, creates a habitat for biodiversity
and offer aesthetically pleasing views for the occupants in the vicinity.
The success of this project and its popularity was indisputable following various features on several television series including "Grand Designs Australia," "Better Homes & Gardens Australia," "Australia's Best Houses," and CNN.
Project Credits (if applicable):
Green Roof Designer: Chris Knierim, Code Green Pty Ltd
Main Contractor: Designer Constructions Group Pty Ltd
Manufacturer of VersiDrain® 25P: Elmich Pte Ltd