Without the intermittent school chimes and the sound of children emitting from within the cocoon-shaped structure in Sengkang Riverside Park, one would easily mistake the 4,000 square metres complex to simply be an architectural work of art. Look within and you will find that this complex is home to School4Kidz Preschool, the largest childcare centre to be located within a public park in Singapore, and the first collaboration between the Early Childhood Development Agency (ECDA) and the National Parks Board (NParks).

The nature-focused campus is designed to integrate seamlessly into the lush green surroundings of the park in order to keep the children in touch with nature, providing them with a safe and nurturing environment for their holistic development. Studies done by early childhood researchers and psychologists in the field of environmental psychology have also found that the presence of greenery in a learning environment can reduce aggression and stressors while improving the cognitive abilities of children (Collado & Staats, 2016).
With an incredibly imaginative design by architectural practice Freight Architects LLP, together with the lush landscaping implemented by Nature Landscapes Pte Ltd, the two-storey centre resembles a "green cocoon" from a bird's eye view. One of the architectural highlights of the centre is its lush green outer "shell". The plant-filled green roof covers the majority of available roof space, only leaving space for glass panels for natural sunlight to illuminate the interior. Twelve different plant species were planted. Elmich's green roof system was selected as the optimal choice for the greening of the curved roof due to its lightweight and flexible properties.
Enviromix® PB, a nutrient-infused lightweight media board, was thus chosen due to its lightweight and erosion-proof properties, making it ideal for projects where weight is a major consideration. Each planting board is manufactured from environmentally sustainable materials enhanced with nutrients that are beneficial for healthy plant growth. The modular and flexible form of the planting board allows easy handling and installation, with no messy loose media for installers to deal with, making it a quick and clean solution for a wide range of projects. In addition, Enviromix® PB's thermal insulation properties translate to greater energy efficiency, while keeping inhabitants cool in Singapore's tropical heat. Enviromix® PB is able to retain up to 3 times its weight in water, yet remain lighter than conventional planting media. This feature reduces the irrigation frequency and is particularly handy during dry months in Singapore.
To enhance the drainage capabilities of the green roof, Elmich's VersiCell® drainage cells were placed underneath the planting boards and beneath a layer of geotextile. Effective drainage of excess water is especially important for tropical countries that experience heavy monsoon periods a few times a year and prevent unnecessary structural loading of roofs.
The result is a beautiful green roof with an efficient water drainage and adequate water retention capability to thrive year round in Singapore's tropical weather.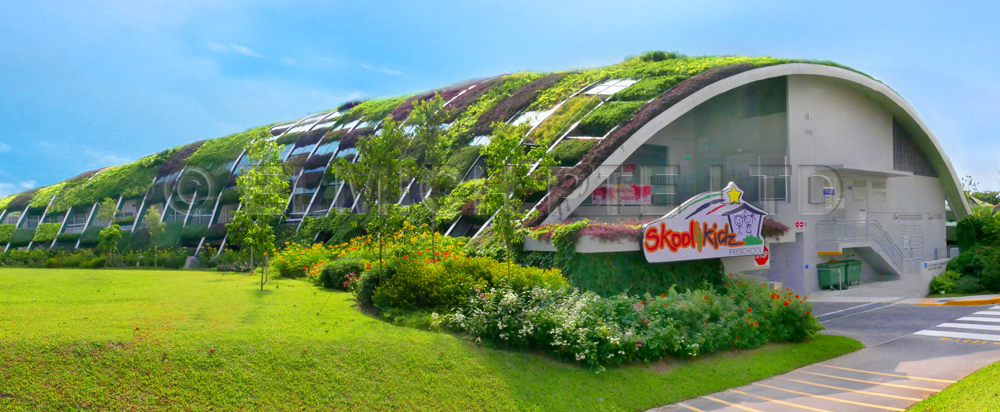 Project Credits
Client / Developer: Skool4Kidz Pte Ltd
Architect: Freight Architects LLP
Green Roof System Manufacturer: Elmich Pte Ltd
Green Roof Implementer: Nature Landscapes Pte Ltd
Read more about the application here…
References:
Collado, S., & Staats, H. (2016). Contact with Nature and Children's Restorative Experiences: An Eye to the Future. Frontiers In Psychology, 7. doi: 10.3389/fpsyg.2016.01885