GreenUrbanScape Asia 2013, jointly organised by National Parks Board (NParks), Landscape Industry Association (Singapore) (LIAS), Singapore Institute of Landscape Architects (SILA) and Singex Group, was held alongside the 2nd International Skyrise Greenery Conference & International Landscape Industry Association Summit at the Singapore EXPO Convention & Exhibition Centre from 7 to 9 November 2013.
Elmich's VGP Green Wall planted on both sides and decorated with colourful butterflies stood majestically proud and tall in front of the Elmich booth at the exhibition. Lit by changing colourful lights, it attracted visitors to the booth which took visitors on a journey towards greener cities by showcasing in pictorial splendour prominent and award winning iconic projects in which Elmich had provided innovative urban greenery, landscape and stormwater management solutions.
Elmich products have played a pivotal part towards these projects achieving their environmental sustainability goals and also in a broader perspective towards the greening of Singapore.
The exhibition also provided the platform for Elmich to introduce and launch "LivePicture", a living painting using plants as the paint palette. The new product received overwhelming interest and enquiries from visitors to the Elmich booth.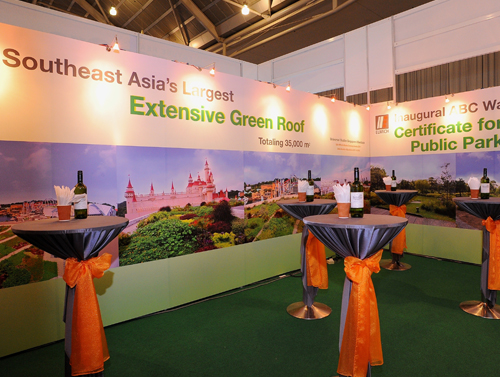 Against a backdrop of increasing urbanisation and intensifying need for liveable and sustainable cities Elmich supports and welcomes this inaugural regional landscape and urban greenery trade exhibition.