As a testament to its onus on sustainability, Elmich's Green Roof, Green Wall, Drainage, and Turf & Slope Stabilizer products have been awarded the Very Good rating (2-ticks) under the  Singapore Green Building Product (SGBP) certification scheme administered by the Singapore Green Building Council (SGBC). These products are the first in their respective product categories to achieve this distinction.
The BCA Green Mark Scheme was launched in January 2005 as an initiative to drive Singapore's construction industry towards more environmentally-friendly buildings. It is intended to promote sustainability in the built environment and raise environmental awareness among developers, designers and builders when they start project conceptualisation and design, as well as during construction. Part of the scheme promotes the use of sustainable products that are certified by approved local certification body.  In Singapore, the approved certification bodies are Singapore Green Building Council (SGBC) and Singapore Environment Council (SEC) respectively.
Majority of Elmich's landscape engineering products hold both the Green Label and the SGBP labelling scheme of approval. With 2 green certifications for their product lines, customers are assured that Elmich's products are of superior environmental performance benchmarked against current industrial standards, serving as a convincing sustainability credential for its products.
So why does it matter to the specifier / architect / consultant?
For Green Mark building projects, usage of higher rated green building products will help the project accrue a higher Green Mark score.
Within Green Mark for New Buildings (Non-Residential) 2015, under Section 3.02c Sustainable Products, Elmich's products which are specified and used can score points under the Functional Systems Criteria and/or Singular Sustainable Products outside of Functional Systems Criteria.
In addition, all Elmich's product with rating of 2-ticks can score an additional 0.25 points under Section 3.02c part iii.
Scoring for BCA Green Mark 2015 – Pilot Scheme (example):
VersiCell® is used as a drainage cell for the green roof in the building project and it covers 90% of the roof area. VersiCell® can get a score of 0.25 points under Section 3.02c part ii and an additional 0.25 points under Section 3.02c part iii, since it is rated very good (2-ticks) by SGBP.
Scoring for BCA Green Mark Version 4.1 – Existing Scheme (example):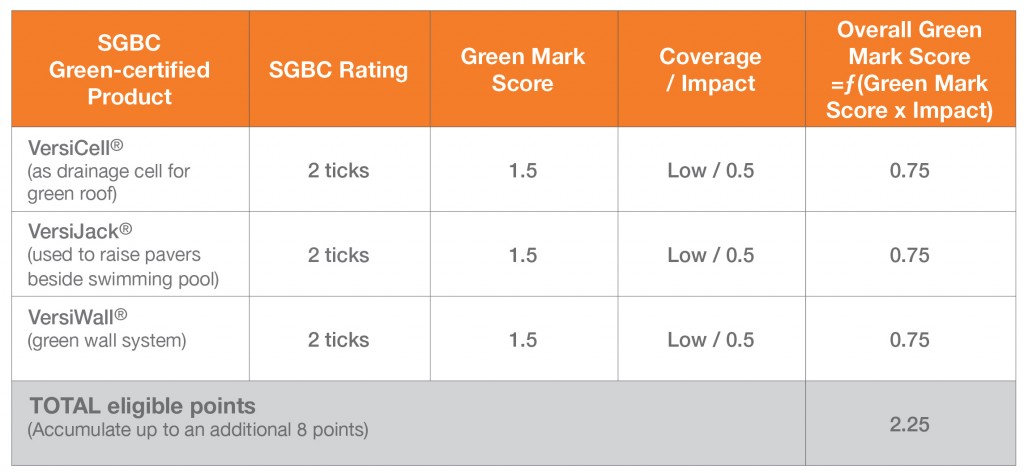 In summary, as a specifier, architect or consultant, every point counts towards improving your project's overall environmental credentials. Let Elmich support you in achieving the Green Mark standards for your project with our environmentally-friendly solutions.
Contact info@elmich.com to find out more on how to specify or use our products to help you make a significant green impact to your building project.
Reference Sites:
The Building and Construction Authority. (2016, April 28). BCA Green Mark for New Buildings (Non-Residential) 2015. Retrieved from https://www.bca.gov.sg/green_mark/pdf/GM2015_NewBuildings_NRB_Pilot.pdf
Singapore Green Building Council. (2016, April 28). SGBP Labelling Scheme. Retrieved from http://www.sgbc.sg/sgbc-certifications/sgbp-labelling-scheme