Twin primary objectives: ensuring that Elmich's market presence is firmly maintained and that Elmich stood out amongst others in the industry, were met at both ArchXpo and Archifest. The inaugural ArchXpo 2014 is an international exhibition showcasing latest technologies, products and related services in the architectural and built environment industries and Archifest, Singapore's annual Festival of Ideas for the City organised by the Singapore Institute of Architects were held from 29 September to 1 October 2014 and from 26 September to 11 October 2014 respectively at Marina Bay Sands, Singapore.
The Elmich booth at ArchXpo, exploiting people's natural sense of curiosity to capture attention, was designed to both raise eyebrows and also become a talking point. Intrigue to arouse curiosity was created by placing individual Elmich product items over green artificial turf dimly lit under a raised glass platform supported by VersiJack® pedestals with the top of the glass platform left substantially bare. Inviting visitors to step up onto the see-through booth platform and helping them to satisfy their curiosity made engaging them easy for the Elmich crew in attendance.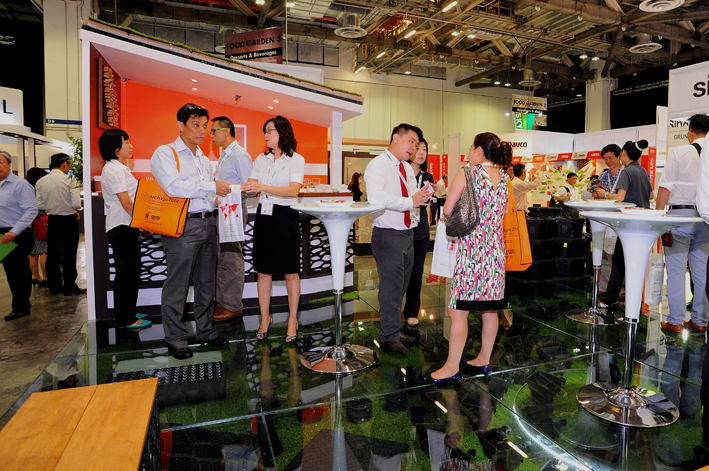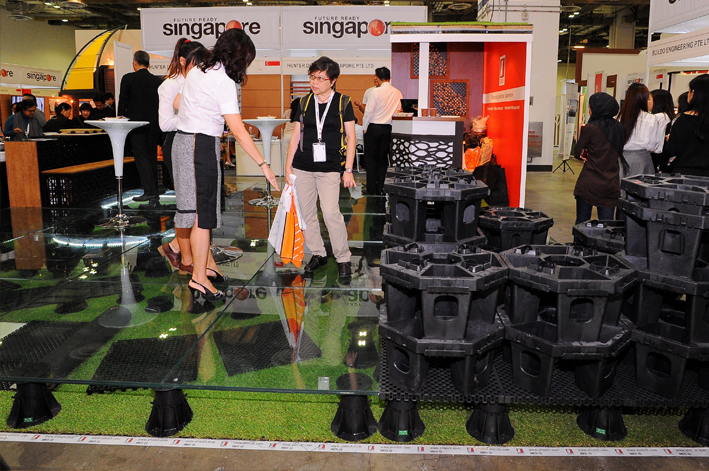 VersiTank® stormwater management tanks meanwhile, doubling as bench seats, enabled existing customers or acquaintances to take a break, catch up, or simply enjoy a cup of coffee with members of the Elmich crew.

The unusual booth successfully set Elmich apart from the others at the exhibition and enabled new products in the Elmich fold, StrataCell®, a structural cell to aid in tree establishment in built environments; and EnviroMix® PB, an ultra-lightweight planting medium for establishment of extensive green roofs to receive maximum exposure.
Elmich was also the main sponsor of the Singapore Institute of Architects' (SIA) Hospitality Lounge at ArchXpo. Elmich VersiWall® GP (VGP) provided the system to clad both sides of a design column at the lounge with living plants whilst the raised decking at centre stage of the lounge was created using Elmich VersiTank® stormwater management tanks as the support for composite wood panels, again demonstrating its versatility.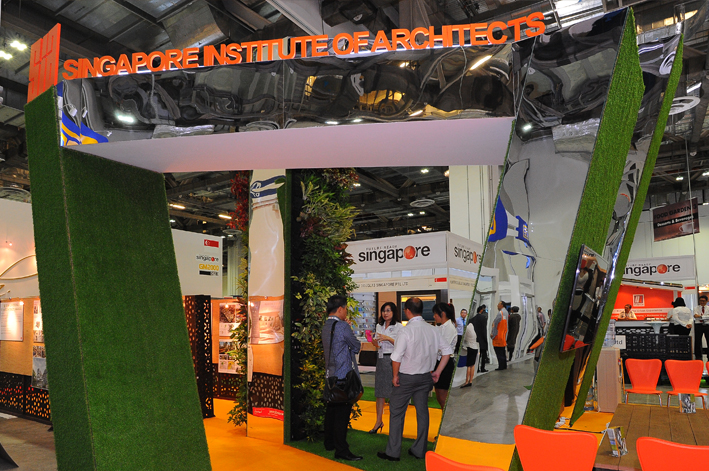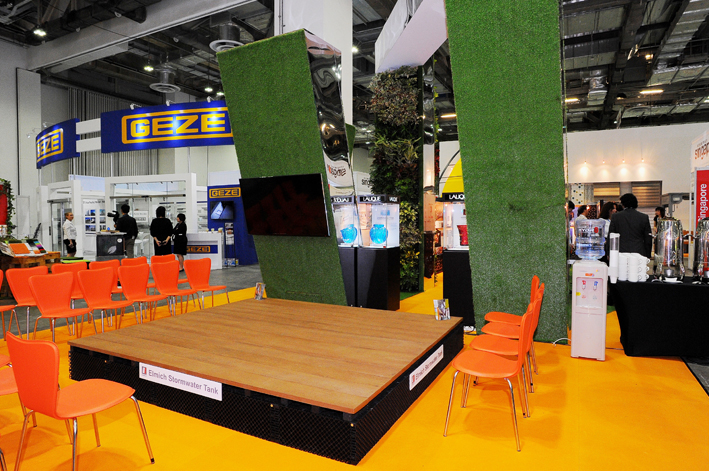 At Archifest, the Elmich sponsored green wall providing the backdrop for centre-stage in the Archifest Pavilion embodies Elmich as a solution provider. Not permitted to affix any structure to the substrate where the Pavilion is located, the structure onto which VGP Panels were secured for VGP Trays to be mounted was constructed using VersiTank® stormwater management tanks ballast down with sand bags. The versatility of both the VersiWall® GP (VGP) system and VersiTank® in combination enabled the erection of the stable free-standing double-sided green wall in the Pavilion.