ELMICH is pleased to announce that it is now a strategic partner in the Femox group of companies through the acquisition of an equity stake in Swiss company, Femox GmbH. Femox companies currently manufactures and distributes building and landscape products in Western Europe. With this new partnership, Elmich and Femox are poised to expand their market presence in Europe to provide cost-effective and sustainable solutions to designers, builders and property owners.

"Despite the poor short-term economic outlook for Europe, Elmich sees Europe as a strategic region in its globalization plan. Europe still has pockets of economies that will do relatively well. Additionally, European-based design firms are influential in urban developments worldwide and this partnership with Femox will greatly enhance our brand amongst European architects. We are in Europe for the long haul," said Ryan Lee, Director of Elmich Pte Ltd.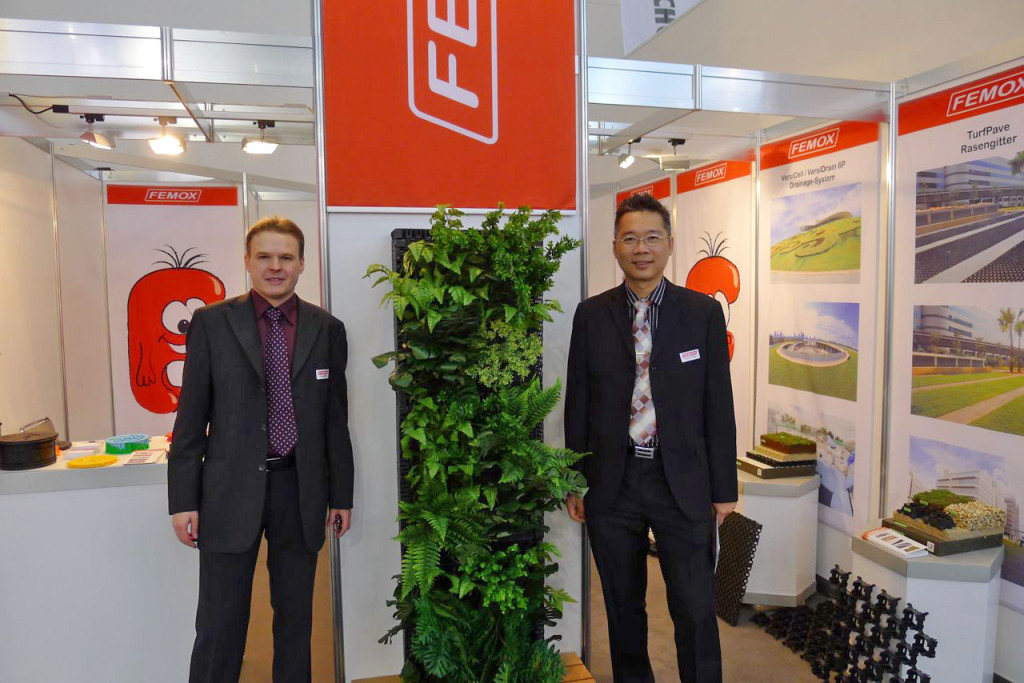 Mr Felix Moser (CEO, Femox) with Mr Andy Chew (Director of Landscape Engineering, Elmich) at BAU Munich 2011
Felix Moser, CEO of Femox GmbH, also commented, "I am very pleased to enter into a strategic partnership with the Elmich group, a leading company in the field of development and production of high quality landscape engineering products. Femox provides specific products for roof and terrace construction, and landscape architecture. Our headquarters is located in Wurenlos, near Zurich in Switzerland. I am excited with the opportunity to work more closely and intensely with Elmich to build our distribution network and business across Europe."
Femox will be showcasing Elmich range of solutions and products at Swissbau in Basel (Hall 1.0 / Stand B36) from 17 to 21 January 2012. We look forward to seeing you there.